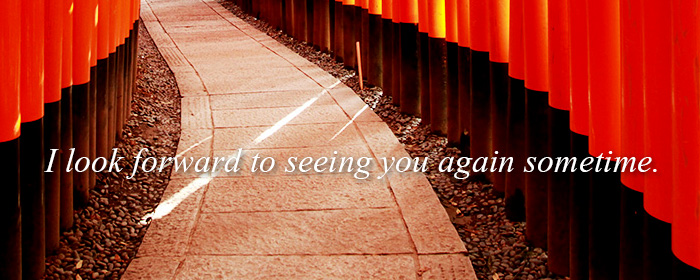 29 April 2015
Dear Kimi san,
It was our pleasure to meet you and thank you for the wonderful tour. My parents especially love Japanese gardens and the two you showed us were very beautiful.
I look forward to my next visit to Kyoto and to meeting you again and discovering more of the beauties and history of Kyoto.
---
Hi Kimi-san: thank you as well for the good service today. We learned much and enjoyed every minute. All the best.
Jan
---
Dear Kimi San,
This is our first visit to Japan from India and we really enjoyed the.visit to Kyoto.
The way you untitiringly explained the greatness of each of the sites was really impressive and it helped us understand the culture of Japan with clarity.
We also enjoyed the visit to the garden that you recommended.
Thanx for making it more memorable.
Regards
Kannan & family
India.
---
Dear Kimi San
Thank you again for the great tour on Monday.
Mary, Colin, Michael and I thoroughly enjoyed it. Your van provides a very comfortable way to see the sights of Kyoto and we really enjoyed your commentary on each of the sites, as well as your humour.
Kind regards
Jonathan
Kimi- we had such an amazing meal. Thank you very much for suggesting the restaurant to us – it was the best dining experience we have had in Japan this far. Master chef also added a great deal to our experience by explaining his courses in great detail when asked. And he was enthusiastic about his creations – that was very evident the way he interacted with us.
I sincerely thank you again for the excellent day we had with you as well as the restaurant reservation. You really made our experience in Kyoto a truly memorable one. The sites you showed us were great and us feel as if we wouldn't have experienced as much as we did if we went with someone else.If you need an endorsement, please let me know.
Thank you again and best wishes.
William Carpenter
Thank you so much for showing us your beautiful city – Kyoto.  We had a wonderful time and you were so helpful from start to finish.  Everything was wonderful the gardens, the shrines, the temples, the saki and also your choice of restaurants was perfect – the food was great.
Kyoto is a city that speaks of tradition, order, beauty and civility.
You gave us some wonderful local insights which we will take with us forever.
We will stay in contact because we will probably come back.
Best regards
Robert, Anne, Alexander and Nicholas Hadley
---
Dear Kimi:
We had a very nice time and enjoyed your tour.  You were able to take us to even more places that we could have imagined.  Each stop was perfect and beautiful. The restaurant you chose was excellent and with the private dining room it made us feel very special.  John and i returned to Hawaii this morning and my two brothers and Dorothy will continue their stay in Osaka until Monday.
We know we will be back to Japan and will definitely go to Kyoto again.
We hope to see you again.
---